What Researchers Who Want To Be Entrepreneurs Need To Know

August 20, 2012

Vol. 90 | Iss. 34

Instrumentation Firms Develop Portable Technology To Detect Counterfeit Drugs

August 13, 2012

Vol. 90 | Iss. 33

Rethinking Defense Science

August 6, 2012

Vol. 90 | Iss. 32

C&EN's Global Top 50 Chemical Firms

July 30, 2012

Vol. 90 | Iss. 31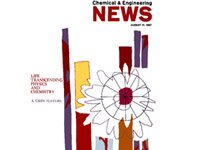 A LOOK BACK:
One of the major scientist/philosophers of the 20th century meditates on Life Transcending Physics & Chemistry
August 21, 1967
Vol 45 | Iss. 35
More C&EN Archives
Analytical SCENE

| September 13, 2012


The Curtain Rises On DNA–Protein Interactions

Environmental SCENE

| September 12, 2012


Boxy Compound Wraps Up Pollutants In Neat Packages

September 12, 2012


Robert S. Langer Receives 2012 Perkin Medal
Nano SCENE

| September 11, 2012


Solar Cells From Inexpensive, Low-Grade Silicon

September 10, 2012


Chemical Firms Drop Stock Plans

Analytical SCENE

| September 10, 2012


Membrane Protein Network Expands
CENtral Science

About the Blogs
Departments
TiO2's Turnaround
Perfluorinated Chemical Controls
Forensic Science And The Innocence Project
Scenes From The American Chemical Society Meeting In Philadelphia

Off To A Good Start

Once More On Climate Change

On Evolution And Humanity

Lava Flows On College Campus, Saving Tesla's Lab

Letters

American Chemical Society Issues Call For Papers For Southwest Regional Meeting

Spring 2013 National Meeting
Join ACS

Join more than
164,000
professionals in the
chemical sciences world-wide,
as a member of the American Chemical Society.
Learn More