Highlights
Issues
C&EN Archives
Email Alerts

October 27, 2014

Vol. 92 | Iss. 43

The Human Element In Lab Informatics

October 20, 2014

Vol. 92 | Iss. 42

Microscopy Method Goes Deep

October 13, 2014

Vol. 92 | Iss. 41

The Immune System Fights Back

October 6, 2014

Vol. 92 | Iss. 40

September 29, 2014

Vol. 92 | Iss. 39

Pushing The Limits Of Chemical Bonding

September 22, 2014

Vol. 92 | Iss. 38

Breaking The Plastic Bag Habit

September 15, 2014

Vol. 92 | Iss. 37

September 8, 2014

Vol. 92 | Iss. 36

Momentum Builds To Keep Fraudulent Food Off Of Store Shelves

August 25, 2014

Vol. 92 | Iss. 34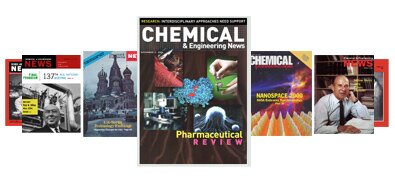 Explore C&EN Archives
C&EN Archives is a growing collection of full, cover-to-cover C&EN issues, with the previous year's issues added on a rolling basis each year.
More C&EN Archives
Sign up to have the C&EN Table of Contents delivered straight to your inbox each week. You can also choose weekly alerts for the SCENEs that best cover your fields of interest.
» Subscribe to one or more C&EN e-Newsletters
If RSS is your thing, then we've got you covered there, too. Just a few clicks are required to set up tailored feeds to suit your needs.
Updated November 5, 2014
Environmental SCENE




Some Personal Care Products May Build Up In Pools




Tokuyama Takes Loss On Malaysia Polysilicon Plant

Environmental SCENE




Two-Dimensional MOFs Boost Gas Separation

Biological SCENE




Cross-chiral Ribozyme May Hold Clues To Origin Of Life

Biological SCENE




Building A Safer Button Battery
More News
Updated October 20, 2014
Three Of Thomas Edison's Laboratories Gain Chemical Landmark Status
INFLUENCED BY CHEMISTRY

Three Of Thomas Edison's Laboratories Gain Chemical Landmark Status

THE FIRST LEG

C&EN Talks With "The Amazing Race" Team Of Amy DeJong And Maya Warren


INSIDE THE HOST

Nanovessel Host Leads To Retention Of Configuration In SN2 Reaction

INSTRUMENTAL

Microscopy Method Goes Deep
More Videos
Departments
Speedier Screening

Burtron Davis Honored For Distinguished Service

When Is Enough, Enough?

Toxicity Tools Coming Of Age

Subdued Employment Growth Ahead For Chemists

Self-Exploration By An Intellectual Polygamist

Cleaning Indoor Air: Alternatives To Precious-Metal Ca [...]

A Master's Degree Designed By Industry

Fireworks Fashion, Extraterrestrial Smells
Join ACS

Join more than
163,000
professionals in the
chemical sciences world-wide,
as a member of the American Chemical Society.
Learn More