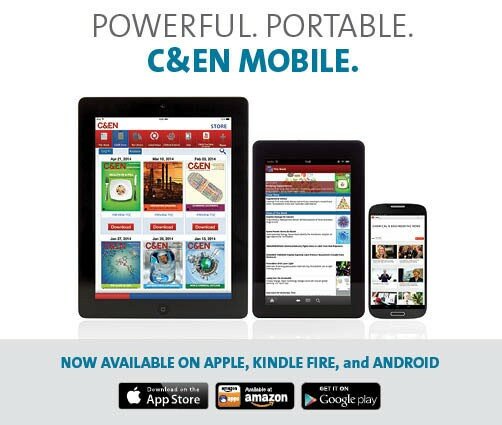 Keeping up with the latest chemistry news just became easier with C&EN Mobile app, now available for iPhone, iPad, Kindle Fire, and Android devices.
These free apps provide access to daily news updates from C&EN Online, analysis and commentary, the latest chemistry job postings, and more. Plus, ACS Members get free access to all C&EN issues!.
C&EN Mobile allows users to:
-    Store your downloaded issues in 'My Library' and read offline
-    Preview each weekly issue's table of contents
-    Use your ACS Member access to download C&EN weekly issues for free

-    Get instant updates from C&EN Online with 'Latest News' and 'C&EN Jobs' postings
-    Share articles via email, and other social media tools, such as Facebook, Twitter, and Tumblr
-    Watch C&EN YouTube videos
 
ACS members enjoy FREE access to all issues within the app
With C&EN Mobile, members of the American Chemical Society can now access all of the issues for no charge by entering their ACS ID*. If you are not an ACS member, you will still be able to access the previous two issues of C&EN for free, with the very latest pre-loaded with the app. All other individual issues of C&EN are available for purchase within the app for just $3.99 each.
For information about ACS membership or to join, visit www.acs.org/membership.
The ACS ID is a single set of log-in credentials (i.e., user name and password) used to access multiple ACS online products, including ACS Publications, C&EN Online, www.acs.org, and the ACS Network. Don't have one? Creating one is free and will only take a few minutes. Register now.
Contact Us!
Send e-mail to with questions or comments.