Highlights
Issues
C&EN Archives
Email Alerts

Lurching Toward Low-Pollution Coal Power

November 19, 2012

Vol. 90 | Iss. 47

November 5, 2012

Vol. 90 | Iss. 45

October 29, 2012

Vol. 90 | Iss. 44

Eating Without Fear: Treatments For Food Allergies

October 22, 2012

Vol. 90 | Iss. 43

Treating Water From Hydraulic Fracturing

October 15, 2012

Vol. 90 | Iss. 42

October 1, 2012

Vol. 90 | Iss. 40

One-Stop Shops Emerge As Drug Research Providers

September 24, 2012

Vol. 90 | Iss. 39

A Summer Of Start-Ups For Biobased Chemicals

September 17, 2012

Vol. 90 | Iss. 38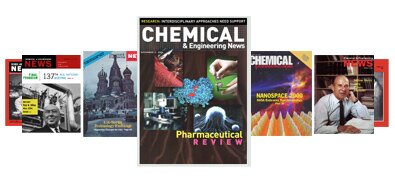 Explore C&EN Archives
C&EN Archives is a growing collection of full, cover-to-cover C&EN issues, with the previous year's issues added on a rolling basis each year.
More C&EN Archives
Sign up to have the C&EN Table of Contents delivered straight to your e-mail inbox each week.
Updated November 30, 2012
Analytical SCENE




Low-Cost Protection For Biomass-Processing Catalysts




GlaxoSmithKline Makes A Move




Life Support For Montreal R&D

Environmental SCENE




Thawing Permafrost Throws Off Global Warming Forecasts




Hearing On UCLA Lab Death Begins
More News
Updated November 29, 2012
A Generator Powered By Motion
ELECTRIC RHYTHM

A Generator Powered By Motion

STEAM GENERATOR

Sunlight Plus Nanoparticles Generates Steam

TOXIC PROOF

Protein's Link To Parkinson's Is Solid

DETECTORS

Sniffer Bees, Airborne Psychotropic Drugs
More Videos
Departments
Synthesis Equipment Allows For Hands-off Chemistry

Ambassador For Chemistry, Science, And ACS

Meet Josh

Leaders Meet In Doha To Negotiate Climate Change Commitments

For Hire

Down And Dirty Science

The Coral-Seaweed Battleground

Teaching Green

Mouse In A Can Revisited, Deep-Sea Carnivorous Harp
Join ACS

Join more than
164,000
professionals in the
chemical sciences world-wide,
as a member of the American Chemical Society.
Learn More