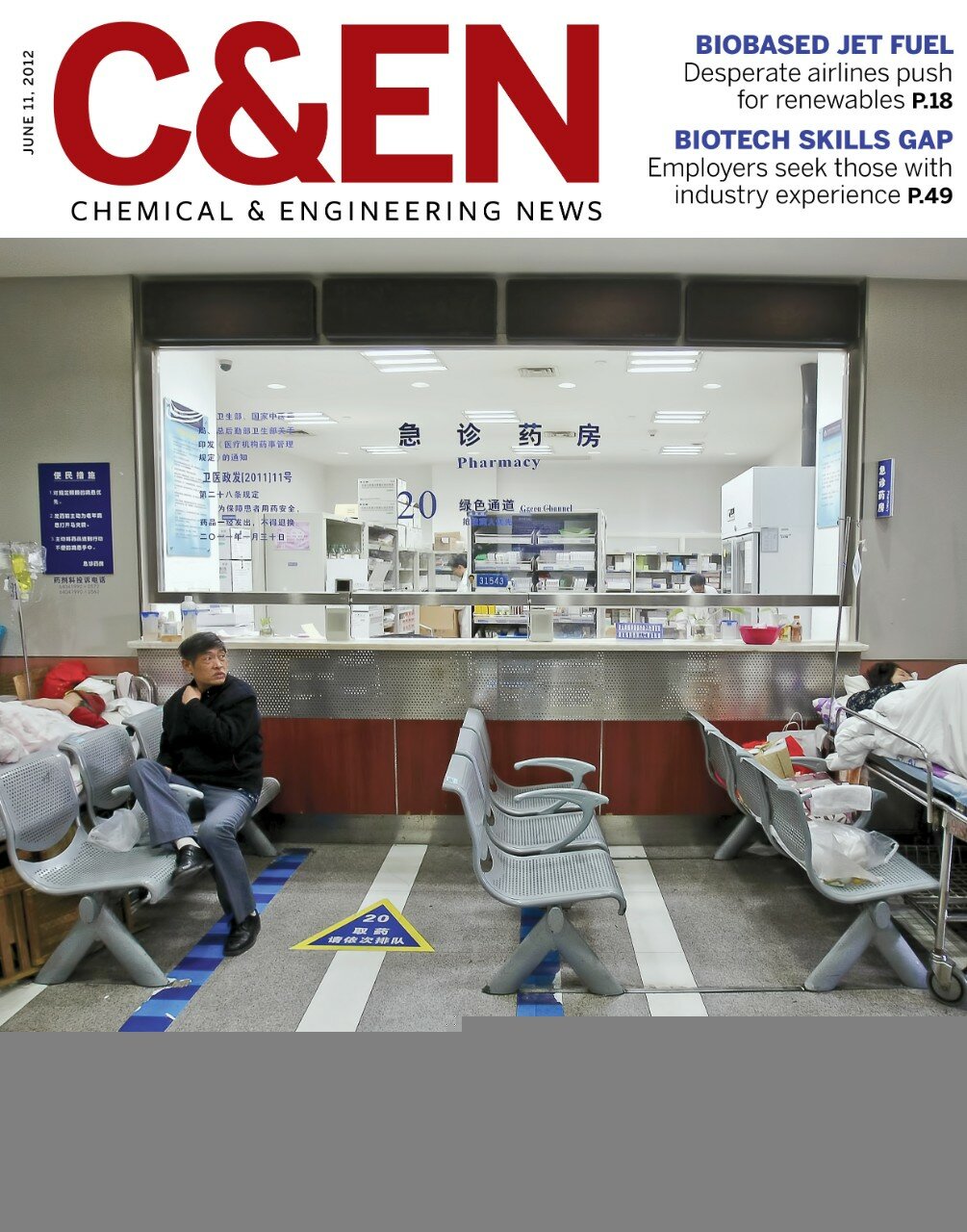 Copyright © 2012 American Chemical Society
June 11, 2012 Cover
Volume 90, Issue 24
A growing number of companies are researching and developing pharmaceuticals tailor-made for Chinese patients
COVER:
Patients receive medical treatment in a corridor of Zhongshan Hospital of Fudan University, in Shanghai.
Credit: qnb-ImagineChina/AP
» Full Article
June 11, 2012 Issue
Volume 90, Issue 24

June 11, 2012 Issue, Vol. 90 | Iss. 24
Developing Drugs For Chinese Patients

A growing number of companies are researching and developing pharmaceuticals tailor-made for Chinese patients
(pp. 10-14)
Features

Business
Flying The Green Skies With Biofuels

With test flights behind them, airlines push for more production of biobased jet fuel (pp. 18-21)

Career & Employment
Biotech jobs are going begging because new Ph.D.s lack the industry experience that companies want (pp. 49-51)
News of the Week
First Tabletop X-Ray Laser
Optics: Lab-scale source of attosecond pulses could enable new kinds of spectroscopic, materials analyses
(p.5)
ExxonMobil Plans U.S. Expansions
Petrochemicals: Company is the latest firm to announce new ethylene capacity in the U.S.
(p.6)
Biomaterials: Layered structure is behind animal's resilient club
(p.6)
Intellectual Property: Former WuXi PharmaTech employee convicted of theft
Court finds that drug compounds were stolen, offered for sale over the Internet
(p.7)
Legislators Urge ACC To Expel Firms
Chemicals: Allegations of inaccurate data and false testimony on flame retardants prompt uproar
(p.7)
Device Skates Between Oil, Water
Nanoscience: An oil-repellant coating that works underwater could lead to robots that can clean oil spills
(p.8)
Little Progress In Saving The Planet
Sustainability: Ecosystems face irreversible changes if people, governments don't act, report says
(p.8)
Bee-Linked Pesticide Under Fire
Honeybee Crisis: France acts on study that shows adverse effects of a neonicotinoid on bee behavior
(p.9)
Kavli Prize Laureates Named
Honors: MIT's Mildred Dresselhaus receives nanoscience award
(p.9)
Departments
Business
Developing Drugs For Chinese Patients
A growing number of companies are researching and developing pharmaceuticals tailor-made for Chinese patients
(pp. 10-14)
Global Approach To Chemical Regulations A Worthy, But Difficult Goal
Europe's chemical agency pushes for globalization of REACH, but the U.S. resists
(pp. 25-27)
Détente Emerges On Drug Safety
FDA and fine chemicals firms come together on a user fee for generic drugs
(pp. 22-24)
Flying The Green Skies With Biofuels
With test flights behind them, airlines push for more production of biobased jet fuel
(pp. 18-21)
Concentrates

(pp. 16-17)
Chevron Phillips Mulls Petrochemical Plant In Iraq
Konarka Files For Bankruptcy
Cytec To Expand Carbon Fiber
Canadian Railroad Workers End Strike
Corning Shows Off New Flexible Glass
Japanese Develop Biomass Rubber
Mitsui, Sinopec Set Elastomer Venture
Firms Collaborate On Plant-Based Plastic
Roquette Opens French Dextrose Unit
Partners Aim To Make Oncology Biosimilars
Boehringer Ingelheim To Build Tech Center
Complete Genomics Restructures
Business Roundup
ACS News
Creating Safety Cultures In Academic Institutions
(p.46)
Northeast Regional Meeting Call For Papers
(p.48)
Government & Policy
Senate To Consider Two Nuclear Regulatory Commission Nominees
Commissioner Kristine L. Svinicki is up for renomination and Allison M. Macfarlane is the White House choice for NRC chair
(p.34)
New Tools For Risk Assessment
EPA lays out how it anticipates using computational toxicology data for regulatory decisions
(pp. 32-33)
Education
More and more of the nation's top universities bring their course work to the masses at no cost
(pp. 44-45)
Science & Technology
ASMS Instrument Roundup
(pp. 42-43)
A Solid Solar-Cell Solution
New solid electrolyte bypasses corrosion and durability problems of traditional dye-sensitized solar cells
(p.40)
Recognizing Hazards
What chemists need to know about OSHA's new system for chemical safety information
(pp. 38-39)
Concentrates

(pp. 36-37)
IUPAC Approves Element Names
Fetal DNA Sequencing Opens Door
Uranium Complex Fuses CO To Make Furanones
Depolymerized Lignin Makes A Good Solvent
Zeolite Isomerizes Sugars With Enzymelike Mechanism
Solvent Viscosity Tunes DNA Folding
Benzene Chain Made Stable Enough For First Electronics Test
Light Releases Antibacterial NO
Career & Employment
Biotech jobs are going begging because new Ph.D.s lack the industry experience that companies want
(pp. 49-51)
Newscripts
Drinking At Work, Spilling Coffee
(p.56)
Editor's Page
The Business Of Chemistry
(p.3)