Volume 90 Issue 34
|
p. 12
|
News of The Week
Issue Date: August 20, 2012
A Cheaper-Than-Platinum Catalyst
Pollution Control: Oxide material outperforms platinum in converting NO to NO2
[+]Enlarge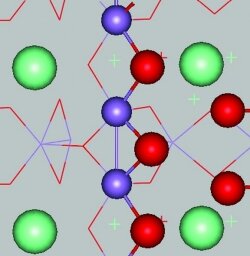 Simulation shows top view of the defect-riddled crystal surface of a new metal-oxide catalyst (O = red, Mn = purple, and samarium = green).
Credit: Science
In the continuing search for cheaper, more efficient catalysts for cleansing diesel engine exhaust, researchers report a new class of mixed-phase oxides that under laboratory conditions exceed the performance of expensive commercial platinum-based catalysts (Science, DOI: 10.1126/science.1225091).
A team of scientists from the U.S., China, and South Korea, led by materials scientists Kyeongjae Cho and Xianghong Hao at Nanostellar Inc. in Redwood City, Calif., report that Mn-mullite(Sm, Gd)Mn2O5—manganese-mullite materials containing either samarium or gadolinium—converts the toxic diesel engine exhaust product nitric oxide to the more benign nitrous oxide.
The researchers investigated the catalyst's mechanism using infrared Fourier transform spectroscopy as well as density functional theory calculations. They found that its catalytic activity is localized at Mn–Mn dimers on the rough, defect-riddled, or "stepped" mullite surface.
James E. Parks II, who leads an emissions and catalysis research group at Oak Ridge National Laboratory, says the work "shows the benefits of using theoretical simulations to better understand the catalytic processes occurring on new materials."
Researchers have put a lot of effort into the search for metal-oxide catalysts. For example, scientists reported the development of a strontium-doped perovskite oxide catalyst that outperforms platinum catalysts (C&EN, March 29, 2010, page 11).
However, various factors, including lack of thermal stability, have bedeviled efforts to industrialize them.
Chang H. Kim of General Motors Global R&D, whose team developed the perovskite catalyst, notes the new catalyst's good NO-to-NO2 conversion abilities but cautions that like other potential catalysts, this material will have to withstand the rigors of real-world conditions.
Yasutake Teraoka, a materials science professor at Japan's Kyushu University, praised the research. "The development of nonplatinum catalysts for NO oxidation is very challenging," he says.
Parks also points out that the catalyst might find use in so-called lean-burn engines, which use much less fuel than traditional internal combustion engines. Emissions control systems in these engines are costly and limit their commercialization, he says. The new work, he notes, "may provide a solution for cost-effective lean gasoline emission control."
Chemical & Engineering News

ISSN 0009-2347
Copyright © American Chemical Society