Volume 85 Issue 36
|
p. 60
|
Obituaries
Issue Date: September 3, 2007
James D'Ianni Dies At 93
[+]Enlarge
Credit: Courtesy of U of Akron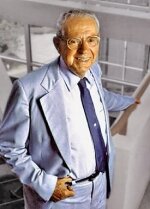 Credit: Courtesy of U of Akron
Former ACS president developed synthetic rubber
JAMES D. D'IANNI, an accomplished chemist, industrial leader, and former ACS president, died Aug. 14. A lifelong resident of Akron, Ohio, he was 93.
He joined Goodyear Tire & Rubber in 1938, spending his entire career there until retiring in 1978 as director of research.
D'Ianni played a key role in the development of synthetic rubber, which was needed for military vehicles and equipment during World War II because natural rubber was in short supply.
An emeritus member, D'Ianni joined ACS in 1934, served as chair of the Rubber Division in 1964, received the division's Charles Goodyear Medal in 1977, and was ACS president in 1980. He was the first ACS president to visit China.
He was also a member of both the National Academy of Sciences and the American Institute of Chemists, and a fellow of the Institution of the Rubber Industry. He held 17 patents, and either authored or coauthored more than 50 scientific articles.
D'Ianni was a generous contributor to the University of Akron, which awarded him an honorary doctor of science degree.
"Among Jim's many concerns was his belief in and support of education, especially in chemistry, which stemmed from his admiration of his professors and mentors," says Kim Calvo, professor and chair of the chemistry department at the University of Akron. "In turn, he supported many students through his service activities and philanthropy. The faculty and students at the University of Akron will miss Jim both for his very down-to-earth manner and his brilliant insights into chemistry."
D'Ianni is survived by his second wife, Claire; a daughter, Vicki Bitner; three grandchildren; and three great-grandchildren. His first wife of 52 years, Dorothy, died in 1992. A memorial service for family and friends is planned for Sept. 7 at the University of Akron's Goodyear Polymer Center.
Obituaries are written by Susan J. Ainsworth. Obituary notices may be sent to and should include detailed educational and professional history.
Chemical & Engineering News

ISSN 0009-2347
Copyright © American Chemical Society