Highlights
Issues
C&EN Archives
Email Alerts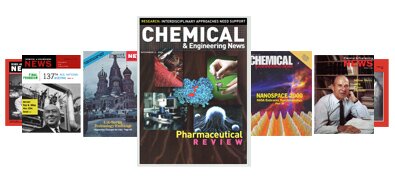 Explore C&EN Archives
C&EN Archives is a growing collection of full, cover-to-cover C&EN issues, with the previous year's issues added on a rolling basis each year.
More C&EN Archives
Sign up to have the C&EN Table of Contents delivered straight to your e-mail inbox each week.
Updated May 22, 2013
MULTIPLE POSTDOCS

MUSIC TO BIONIC EARS

PARTICLE PARTY

ELECTRICAL STORM
More Videos
Join ACS

Join more than
163,000
professionals in the
chemical sciences world-wide,
as a member of the American Chemical Society.
Learn More